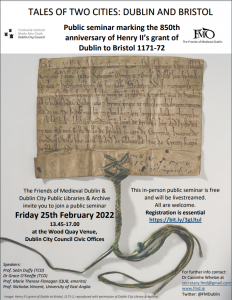 The Friends of Medieval Dublin and Dublin City Public Libraries & Archive are pleased to present a public seminar marking the 850th anniversary of Henry II's grant of Dublin to Bristol, 1171–72.
On Friday, 25 February, 2022 at 13.45 pm Wood Quay Venue, Civic Offices, Wood Quay, Dublin 8, four experts explored the historic connections between Ireland and Britain and that watershed moment of 1171, examining the shared history of the two cities through conquest, trade, politics and the famous charter which granted Dublin to Bristol.
This is the first part of a two-part series which examines connections between Dublin and Bristol on the anniversary of Henry II's grant.  The second event will take place in Bristol later in the year.
You can view the recording of our seminar on 25 February 2022 here: https://youtu.be/Vpns5B8ryVA
Programme of Events 
FRIENDS OF MEDIEVAL DUBLIN & DUBLIN CITY PUBLIC LIBRARIES & ARCHIVE PRESENT
A Public seminar marking the 850th anniversary of Henry II's grant of Dublin to Bristol, 1171-2
Friday 25 February 2022
Wood Quay Venue, Civic Offices, Wood Quay, Dublin 8
13.45 Welcome
Deputy Lord Mayor of Dublin
14.00–15.15 Session 1
Bristol and the Anglo-Norman conquest of Dublin
Prof. Seán Duffy (Trinity College Dublin)
The Bristolian residents of medieval Dublin
        Dr Grace O'Keeffe (Trinity College Dublin)
General discussion
15.15–15.45       BREAK
15.45–17.00       Session 2
King Henry II and Ireland
              Prof. Marie Therese Flanagan (Queen's University Belfast, emerita)
Henry II's charter granting Dublin to Bristol
             Prof. Nicholas Vincent (University of East Anglia)
General discussion and summing up