Tales of Medieval Dublin
(This lecture series has now finished, but you can buy the book here!)
During Heritage Week 2009 the Friends of Medieval Dublin conducted a series of guided walking tours around Dublin's medieval core. Each of these walks was oversubscribed and the passion for the city's history was palpable. Some of the people on these walks were tourists and neophytes to medieval history, but many of them were also regular attendees at the annual Medieval Dublin symposium. Everyone seemed to be very interested in being given more opportunities to engage with Dublin's past. As a result the Friends of Medieval Dublin resolved to meet this need and so created a free monthly lecture series which we added to our annual calendar of events.
The Tales of Medieval Dublin series was introduced in 2010 and ran from June to December. Each 'Tale' focused on a different, fascinating inhabitant of the medieval city allowing modern audiences a chance to 'meet' their predecessors.  These brief biographical sketches provide a unique way of viewing the exciting episodes and developments in Dublin's history. Spanning Dublin's pre-Viking roots all the way up to the early seventeenth century, people from all walks of life are discussed, though there was a particular emphasis on the everyday men and women who were the backbone of the community.
The series ran successfully for three years and completed with a volume of essays, a collection of Tales about ordinary inhabitants from an extraordinary medieval city.
A full list of the lectures and links to their podcasts can be found below:
2012 June-December lineup: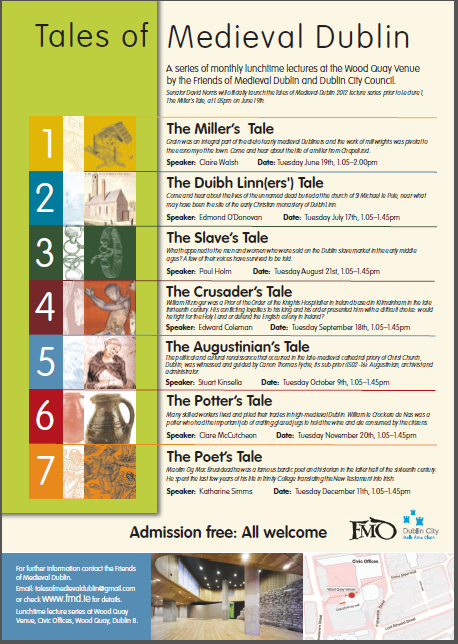 19 June 2012 'The Miller's Tale' by Claire Walsh
(
The Miller's Tale video podcast
)
17 July 2012 'The Duibh Linn(ers') Tale' by Edmond O'Donovan
(
The Duibh Linn(ers') Tale video podcast
)
21 August 2012 'The Slave's Tale' by Poul Holm
(
The Slave's Tale video podcast
)
18 September 2012 'The Crusader's Tale' by Edward Coleman
(
The Crusader's Tale video podcast
)
9 October 2012 'The Augustinian's Tale' by Stuart Kinsella
20 November 2012 'The Potter's Tale' by Clare McCutcheon
(
The Potter's Tale video podcast
)
11 December 2012 'The Poet's Tale' by Katharine Simms
(
The Poet's Tale video podcast
)
2011 June-December lineup: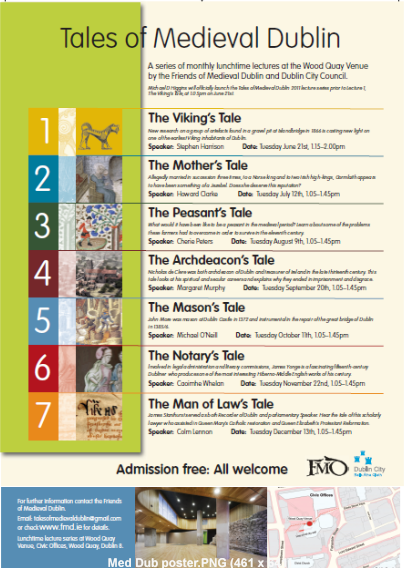 21 June 2011 'The Viking's Tale' by Stephen Harrison
(
The Viking's Tale video podcast
)
12 July 2011 'The Mother's Tale' by Howard B. Clarke
(
The Mother's Tale video podcast
)
9 August 2011 'The Peasant's Tale' by Cherie N. Peters
(
The Peasant's Tale video podcast
)
20 September 2011 'The Archdeacon's Tale' by Margaret Murphy
(
The Archdeacon's Tale video podcast
)
11 October 2011 'The Mason's Tale' by Michael O'Neill
(
The Mason's Tale video podcast
)
22 November 2011 'The Notary's Tale' by Caoimhe Whelan
(
The Notary's Tale video podcast
)
13 December 2011 'The Man of Law's Tale' by Colm Lennon
2010 – June – December lineup: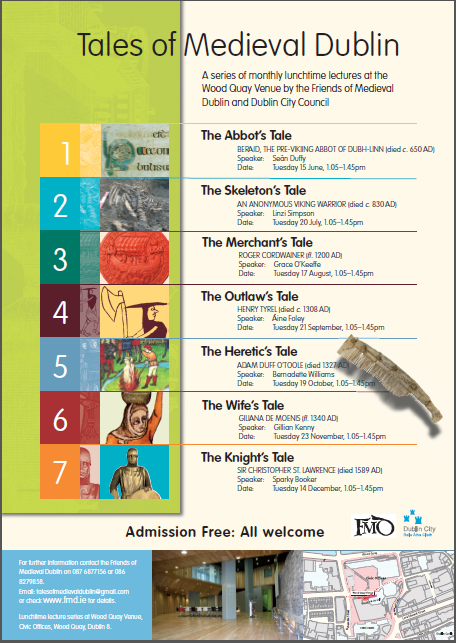 15 June 2010 'The Abbot's Tale' by Sean Duffy
20 July 2010 'The Skeleton's Tale' by Linzi Simpson
(
The Skeleton's Tale video podcast
)
17 August 2010 'The Merchant's Tale' by Grace O'Keeffe
(
The Merchant's Tale video podcast
)
21 September 2010 'The Outlaw's Tale' by Aine Foley
(
The Outlaw's Tale video podcast
)
19 October 2010 'The Heretic's Tale' by Bernadette Williams
(
The Heretic's Tale video podcast
)
23 November 2010 'The Wife's Tale' by Gillian Kenny
14 December 2010 'The Knight's Tale' by Sparky Booker
(
The Knight's Tale video podcast
)