Living and dying in a medieval city: Dublin in the age of Clontarf
Living and Dying in a Medieval City:
Dublin in the Age of Clontarf
(This series has now ended)
In April 2014, FMD marked the commemoration of the millennial anniversary of the Battle of Clontarf (23 April 2014) with a lunchtime lecture series focused on daily life in Dublin at the time of this important battle.
The Battle of Clontarf is an emblematic date in Irish history, when the high-king Brian Boru died in his hour of victory against his Scandinavian and Irish enemies, but in order to look at Clontarf in its wider context it is necessary to understand some of the social history of eleventh-century Dublin and Ireland: what weapons these warriors would have used, what clothes they would have worn, how religion played a part in daily life and why Dublin was of such strategic importance to the high-king of Ireland.
7 speakers over a period of 7 months explored topics such as religion, war, death and art to give people an idea of what life was like in Hiberno-Norse Dublin during the time of this important battle.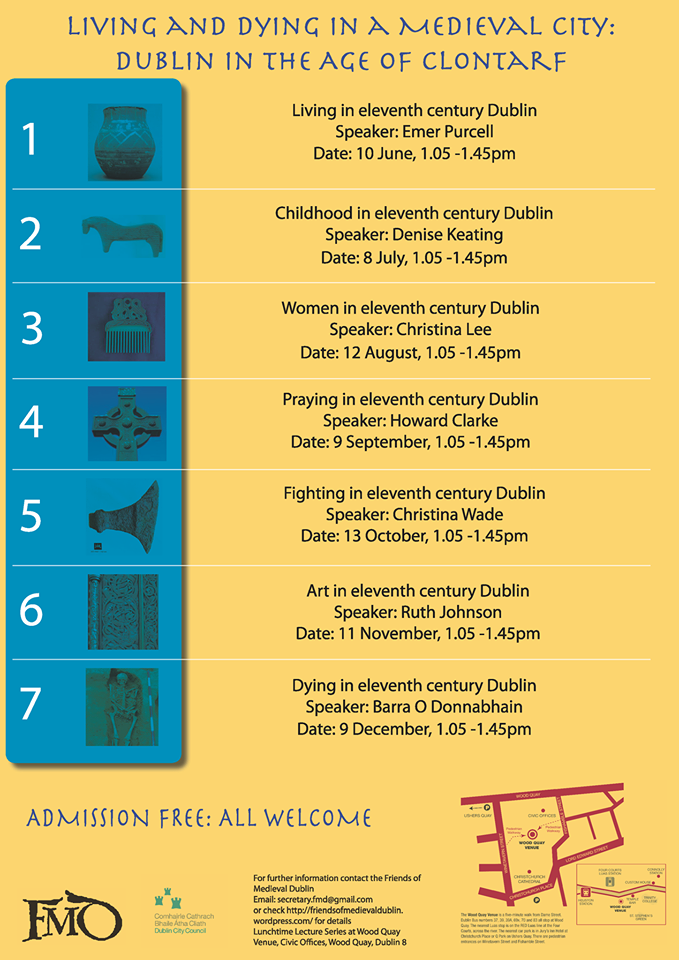 2014 June to December lineup
10 June: Emer Purcell – Living in eleventh-century Dublin
8 July: Denise Keating – Childhood in eleventh-century Dublin
12 August: Christina Lee – Women in eleventh-century Dublin
9 September: Howard Clarke – Praying in eleventh-century Dublin
13 October: Christina Wade – Fighting in eleventh-century Dublin
11 November: Ruth Johnson – Art in eleventh-century Dublin
9 December: Barra Ó Donnabháin – Dying in eleventh-century Dublin