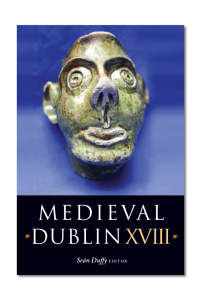 We would be delighted if you could join us for the launch of the Friends of Medieval Dublin's latest volume Medieval Dublin XVIII. The volume will be launched by Malcolm Noonan TD, Minister for Heritage at 17.30 Friday 24th as part of the 22nd Medieval Dublin symposium. You can register for the symposium and find us online
here
.
This volume contains a number of important essays on an ecclesiastical theme, such as Edel Bhreathnach's study on the saints and Biblical figures to whom Dublin churches were dedicated and Thomas W. Smith's analysis of Rome's intrusion into the affairs of the archdiocese of Dublin in the thirteenth century. There are also some fascinating investigations into the economic heart of the city with John Nicholls discovery of one of the largest collections of late-medieval footwear ever uncovered in Ireland from Chancery Lane and Antoine Giacometti's investigation into one of the largest tanning complexes ever discovered in Ireland or Britain, unearthed in Blackpitts.
For these and many other exciting papers, order your copy today.
We hope to see you at the launch!