Join us on Tuesday, 05 April 2016 for the launch of the latest Medieval Dublin volume 15!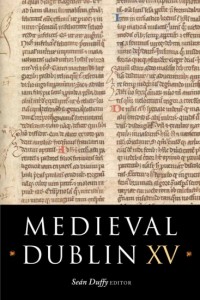 At 6.00 p.m. on Tuesday, 5 April 2016
in the New Common Room, Trinity College Dublin,
(entrance via Dining Hall steps, Front Square).

Medieval Dublin XV ed. Seán Duffy, will be launched by
Professor Linda Hogan,  Vice-Provost of Trinity College Dublin.
Hot off the presses this volume contains reports on a number of important archaeological excavations in the Dublin area in recent years as well as a hitherto unpublished essay by the late Professor James Lydon on the Scottish threat to capture Dublin during the Bruce Invasion and a report on the exciting recent acquisition of a St Mary's Abbey manuscript that has finally returned to Dublin after nearly 400 years abroad.