Milestones of Medieval Dublin
Milestones of Medieval Dublin
(This series has now finished)
At the conclusion of the very successful Tales of Medieval Dublin lecture series the Friends of Medieval Dublin decided to continue offering lectures in partnership with Dublin City Council. The new series, Milestones of Medieval Dublin, focuses not specifically on people, but on pivotal moments in the history of medieval Dublin.
Renowned experts describe the invasions, battles, famines and plagues that medieval Dubliners had to deal with make this one of the most fascinating cities in Europe.
Milestones of Medieval Dublin is a unique opportunity to discover how events like the arrival of the Vikings and the Anglo-Normans helped shape our city.
All lectures begin at 1.05pm and take place at the Wood Quay Venue of Dublin City Council (see below for map).
 No registration is necessary, entry is free and all are welcome!
Milestones of Medieval Dublin (2016)
12 July 2016, Áine Foley – 1392 attack on St Thomas' abbey by the citizens of Dublin
9 August 2016, Paolo Virtuani – The headquarters of the Knights Hospitallers at Kilmainham (c. 1172-1541)
11 October 2016, Patrick Herbage – Dublin and Henry VIII
8 November 2016, Randolph Jones – The Battle of Bray
29 November 2016, Bernadette Williams – TBC
13 December 2016, Marie-Therese Flanagan – The Foundation of St Thomas' abbey
Milestones of Medieval Dublin (2015)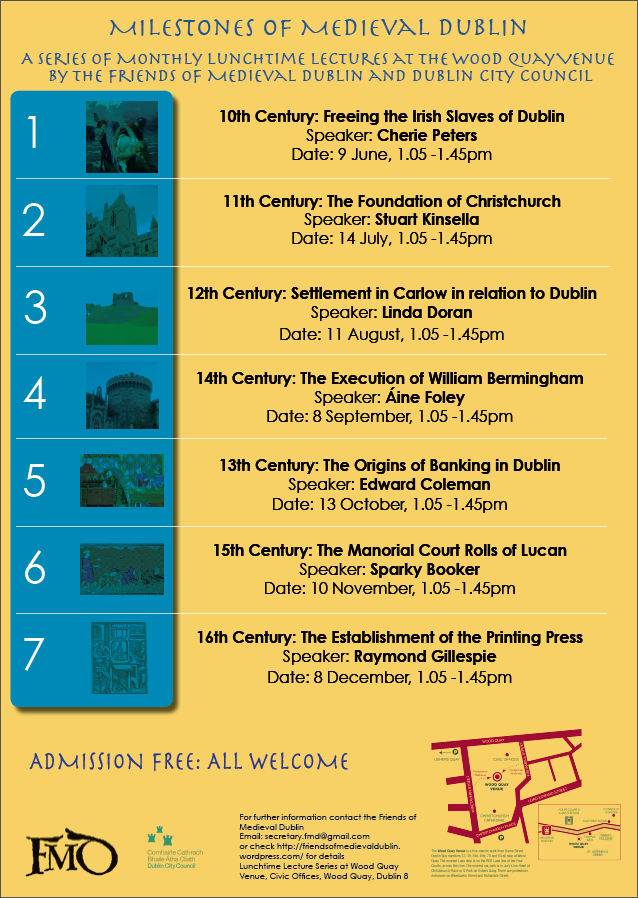 10 June 2015, Cherie N. Peters – 980: Freeing the Irish slaves of Dublin: context and consequences
14 July 2015, Stuart Kinsella – The foundation of Christ Church
10 August 2015, Linda Doran – Dublin and the Carlow corridor
8 September 2015, Áine Foley – The execution of William Bermingham
13 October 2015, Edward Coleman – 'The origins of banking in Dublin'
10 November 2015, Sparky Booker – 'The manorial court rolls of Lucan'
8 December 2015, Raymond Gillespie – 'The establishment of the printing press'
---
Milestones of Medieval Dublin (2013)
Map of Wood Quay venue