The Friends of Medieval Dublin will once again be offering free guided walking tours
of Medieval Dublin during Heritage Week 2017.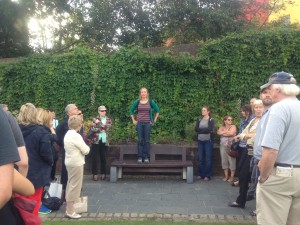 Come explore life in the city 1,000 years ago and see how your ancestors lived!
Tours will start on Saturday 19 August and go through Saturday 25 August.
The tours will run as follows:
SAT 19th  – 13:00-14:00

 pm

TUESDAY 22nd – 18:00-19:00 pm
WED 23rd – 18:00-19:00 pm
THURS 24th – 18:00-19:00 pm
SAT 26th  – 13:00-14:00

 pm
All tours start from the City Hall side of Barnardo Square, Dame Street (see below for map)
For practical reasons, numbers on the tour will be capped, so please check www.fmd.ie for availability on each tour and email secretary.fmd@gmail.com with tour day preference and the number of places you would like to reserve.
Map of Barnardo Square