Editors: Sparky Booker and Cherie N. Peters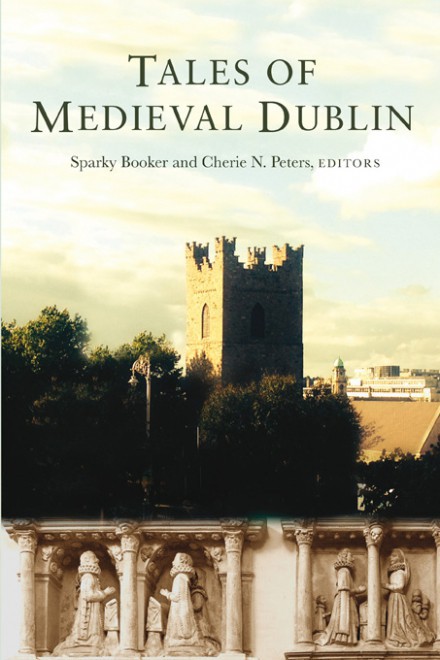 Walking through Dublin Castle or along the surviving medieval city walls, you can see only glimpses of what it would have been like to live in the city centuries ago. Tales of medieval Dublin provides a chance for modern audiences to meet the Irish, Norse and English men and women who lived in this colourful medieval city, and to hear their fascinating stories. While providing the most up-to-date research, these fourteen tales are written to appeal to anyone interested in the city's past. They span almost 1,000 years of Dublin's history and trace the lives of warriors, churchmen, queens, bards and barons, as well as those individuals who are so often ignored in the historical record, like housewives, tax collectors, masons, lawyers, notaries, peasants and slaves. This volume serves both as a history of the medieval city, and as a window into the day-to-day lives of the men and women who lived there.
CONTENTS:
Seán Duffy | The Abbot's Tale
Linzi Simpson, | The Skeleton's Tale
Poul Holm | The Slave's Tale
Howard B. Clarke | The Mother's Tale
Cherie N. Peters | The Farmer's Tale
Áine Foley | The Tax Collector's Tale
Margaret Murphy | The Archdeacon's Tale
Edward Coleman | The Crusader's Tale
Gillian Kenny | The Wife's Tale
Michael O'Neill | The Mason's Tale
Caoimhe Whelan | The Notary's Tale
Sparky Booker | The Knight's Tale
Colm Lennon | The Man of Law's Tale
Katharine Simms | The Poet's Tale
Reviews:
Andrew Halpin

on

Irish Arts Review (Winter 2014)

wrote:
'This is an unusual, but fascinating and very enjoyable book … It's not a history of medieval Dublin but it is full of Dublin's history, including many insights and snippets that you wouldn't get in a standard academic history … There is great variety in the characters chosen … Overall, I would consider the book an undoubted success – enjoyable and relatively light reading for the academic but a stimulating introduction to the history of medieval Dublin for the lay reader. This is well worth a punt for anyone with the slightest interest in Dublin's history'
Seamus Ó Maitiú

on

Dublin Historical Record (Autumn/Winter 2014)

wrote:
'This is a most pleasing book. It consists of fourteen "tales" of invidicuals living in Dublin over a period of almost a thousand years. As in "The Canterbury Tales", the stories of these individuals reveal much about the world in which they lived, in this case medieval Dublin … This is a fine production, much of it the fruits of the labours of young new scholars. Its microhistories greatly add to our understating of our ancient metropolis. It is thoroughly recommended to the aficionado and neophyte alike. Its editors are to be complimented'
Mags Mannion

on

Peritia 26 (2015)

wrote:
Overall, this is an engaging and accessible volume. Individual readers will be drawn to different tales, but the mix presented here will have something to please most tastes. The tales leave the reader with a sense of what life was like for a variety of characters living in medieval Dublin. Moreover, these characters have depth, and the backgrounds of their lives are detailed studies encompassing the broader landscape and society of medieval Dublin.